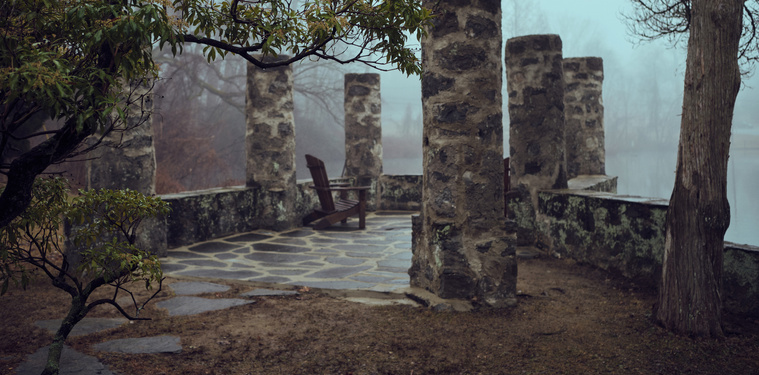 Near the end of the 2019, I bought a Fujifilm X-T3 camera along with the 35mm and 56mm lenses (50mm and 85mm equivalent, respectively, on the Fuji sensor). I'd been considering mirrorless cameras for a while and the Fujis in particular, mostly because they remind me so much of the film cameras I used when I was learning to take photos, learning to see like the camera, and realizing how much I loved photography. From what I've read and seen in reviews, almost any mirrorless camera available now would have been great. But, there's something to be said about a camera that takes you back to that "first love," that initial excitement of discovering the visual life.
It did just that. I wanted to go out with my camera more, and my love of taking photos was renewed. I began taking it with me everywhere and planning little walks through towns and woods near home. It was the same as it was in those early years. I remember when I bought my Nikon FM3a film camera. I was working full time, and photography was still just a hobby for weekends and after work in the summer, and one of my favorite things to do was to get up early on a Saturday to go take photos at nearby Eastern University, which has three ponds and a small wooded area.
So, I was excited a few weeks ago to wake up to see a dense fog out the bedroom window, and my first thought was imagining what the mist would look like on the ponds at Eastern. I bundled up and grabbed the Fuji along with my newest lens, the 23mm f/2. The camera and the ponds didn't disappoint me, and for a few hours it wasn't Eastern, but the mist of memory that I walked through, that dense atmosphere of emotion and nostalgia where it's not what's in front of you that's hazy, but the difference between the past and the present. The two become one, and for a time, I wasn't thinking about assignments, emails, booking work, how I'd process the photos for a deadline. I was content in the joy of capturing moments, capturing the ephemeral beauty of a time and place, finding a way to show others not just what I saw, but how I felt standing there by the quiet waters.